February 2017

Writing Condensations: Inventing Difficulties


In anticipation of the publication of my book Condensations from Uniformbooks I have mapped out some thoughts on the process of writing it.


Taking the Lake mountains as an example. One may state broadly that the British climber could not have learned how to climb, nor, trained in his judgement and nerve at all, unless he had intentionally attacked every mountain on the 'wrong side'. Thus, from the first, he had to invent difficulties…[A]ll must agree that this principle which I take to be the guiding principle of the pure crag climber is a dangerous one


1

In Summer 2016 I was fortunate to be writer in residence at the Armitt Museum and Gallery in Ambleside, Cumbria, funded by Arts Council England. It is during my time there that I took Larden's principle forward into my written work: I invented difficulties. Although these difficulties are textual, the dangers of Larden's crag climber are replaced by the complexities of contiguity. Plotting a route through the mass writings of others was not straight forward but, like walking in the fells, nothing rewarding ever is.

I had been drawn to the Armitt for its collection, its history, and for the meeting of disparate subjects with the task of aligning them. I see my writing as collage. Like Schwitters I wanted to appropriate and recycle, to use the discarded and overlooked in order to create associations and new meanings. At the Armitt I was not without resources to do so. I wanted to introduce the history of rock climbing to Cumbrian dialect and the legacy of Kurt Schwitters. This was the beauty of the Armitt, supported in my endeavour by the wonderful Armitt curator Deborah Walsh.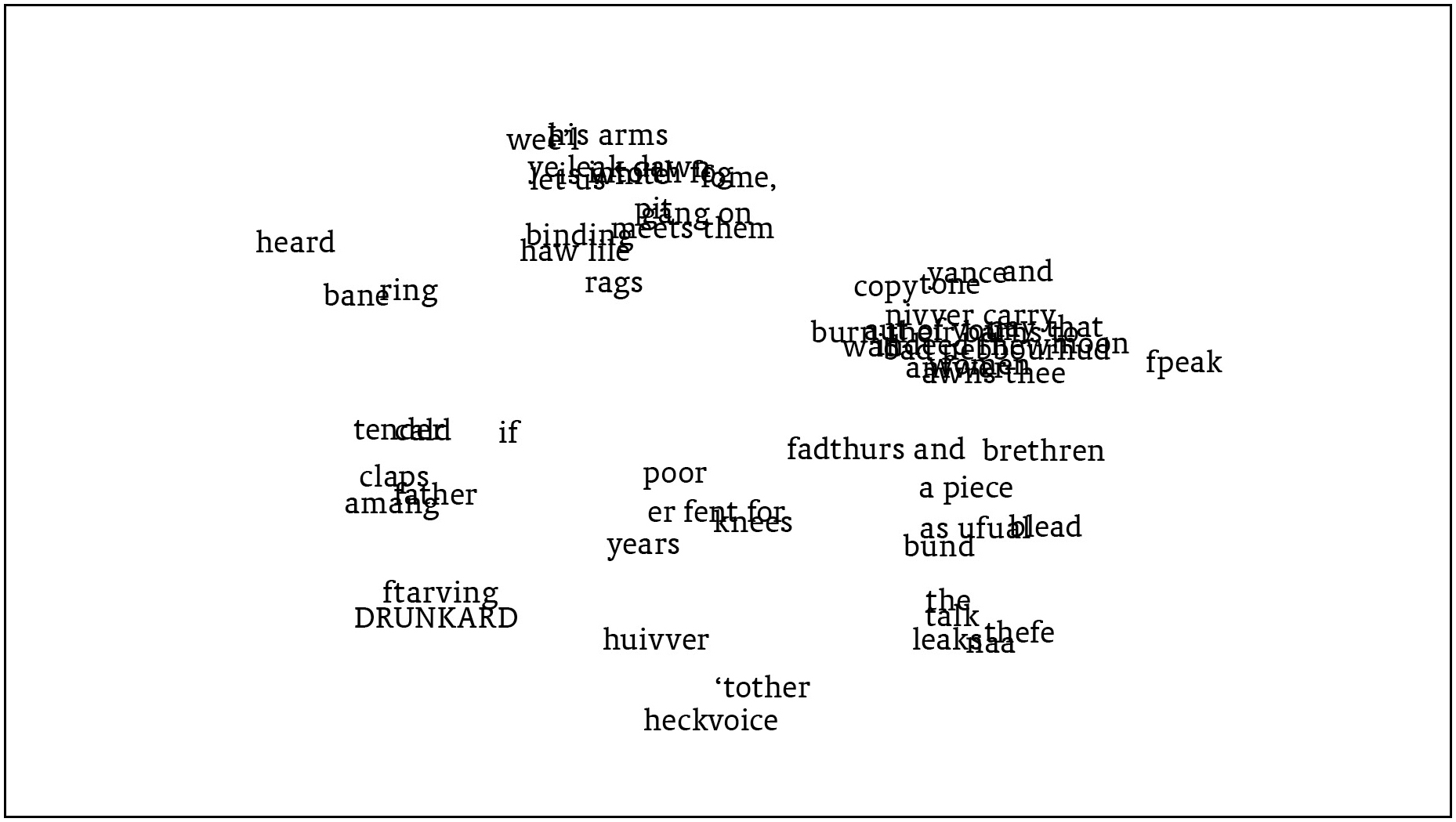 Condensations detail p.69 Walker, N. Uniformbooks 2017

My invented difficulty was not only to collage from a wide range of sources but to cut and paste these texts into a fixed visual frame. All the texts I used were digitised and treated to procedures of erasure. I removed text I had no interest in, and what remained was the language that spoke to me, the voices of others were condensed. I worked visually and conceptually. All the treated pages withheld their original design and layout, so a piece of text from the top left of the page remains at the top left of the page within Condensations. When all pages were treated they were then superimposed onto one another —a condensation occurs. The overprinting of text(s) produces density and obscurity but, in the same breath, some figures are left defiantly alone like remote islands of single words or phrases. It is these contrasting visual marks that make up the texts in Condensations. They are then grouped visually across page-spreads to produce landscapes, ranges, routes and terrains.

During my residency it became clear that the in order to navigate the terrain a path would need to be formed between these collections of language, geography, folk figures and speech-sounds. These were the routes in which to traverse. Below I have put down my thoughts and notes on the following influences, Coleridge, Crowley, Schwitters, Dialect and Walk(er)ing, that construct Condensations as a project and mark the paths between them.


Coleridge, Crowley & Schwitters - good lugs on em eh?


Coleridge


There are some well-known literary precedents for this 'invented difficulty' in Lakeland history. The history of rock climbing in the Lake District begins, as all good things do, with poetry. The first recorded rock climb was Samuel Taylor Coleridge's dramatic descent of Broad Stand in 1802:


My limbs were all in a tremble - I lay upon my Back to rest myself, & was beginning according to my Custom to laugh at myself for a Madman, when the sight of the Crags above me on each side & the impetuous clouds just over them, posting so luridly & so rapidly northward, overawed me. I lay in a state of almost prophetic Trance and Delight — & blessed God aloud, for the powers of Reason & the Will, which remaining no Danger can overpower us! O God, I exclaimed aloud — how calm, how blessed am I now: I know not how to proceed, how to return; but I am calm & fearless & confident; if this Reality were a Dream, if I were asleep, what agonies had I suffered! what screams!

2

This situation of seemingly both pleasure and panic was overcome by climbing down a chimney that is now commonly referred to as 'Fat Man's Agony'.


Crowley


The exploits of what we might call 'climbing proper' followed in 1882 with Walter Parry Haskett Smith and his circle from Wasdale Head and the Wastwater Hotel. Their routes recorded in writing in a communal log book (Climbers Record Book / Wasdale Climbers Book) which included none other than occult ceremonial magician and mountaineer Aleister 'The Great Beast' Crowley. I imagine Crowley's routes as spells, his ascent of the Napes of Great Gable an incantation for reaching other summits, always occurring above the clouds. He missed Coleridge at Broad Stand by just over 90 years but his description is no less high-handed:


Scawfell is separated from Scaw Pikes by a pass called Mickledoor…by going down a littler on one side one can climb the cliffs by the Broad Stand or Mickledoor Chimney…But it had been the ambition of every climber to start from the exact top of the ridge. This was called the Direct Climb of Mickledoor; and no-one had done it. That seemed to be a good shame, so I did it. This time the fat was in the fire.

When writing in the Climbers' Record he claimed it to be a 'most serious compilation' and never wrote in it without 'the fullest sense of responsibility'. The climbers book is reprinted in Michael Cocker's now out-of-print Wasdale Climbing Book (2006) and was one of the many books I was able to access as part of the Armitt Library's collection. The Armitt Library also currently holds the archive of the Fell and Rock Climbing Club of the English Lake District.


Schwitters
'Schwitters In England' 1958 Gaberbocchus Press

My initial draw to the Armitt museum and library was for the exiled German artist, dadaist and sound poet Kurt Schwitters. They hold the largest permanent display of his work in the UK and the library has a wealth of books on his work and life, many of them rare. Schwitters spent the last years of his life in Ambleside, where he famously began his fourth and final Merz building - the Merz Barn - he never completed the barn, only one wall remains (housed at the Hatton Gallery, Newcastle Upon Tyne). This construction was an installed collage, architectural cut and paste using objects from the landscape of the Lakes like flowers, stones and piece of wood. Schwitters not only pioneered installation art like this but also sound poetry (and concrete poetry for that matter). Henry M. Sayre shares Maholy-Nagy recollection of a particularly inspiring performance by Schwitters in which he 'attacks natural language'

In one of his demonstrations, he showed to the audience a poem containing only one letter of a sheet:





W
Then he started to "recite" it with slowly rising voice. The consonant varied from a whisper to a wailing siren till at the end he barked with a shockingly loud tone. This was his answer not alone to the social situation but also to the degrading "cherry-mouthed"—"raven-haired"—"babbling-brook"—poetry.The only possible solution seemed to be a return to the elements of poetry, to noise and articulated sound, which are fundamental to all languages… 4

I have written elsewhere about the missing 'W' of Scaw Fell from ordnance survey maps, but Schwitters' 'W' is quite remarkable in that it contains within it a condensation - a sustained breath and vocal landscape hiding inside the double-you. As Sayre reminds us, 'it is and remains noise…but is transformed in performance into poetry'.5


Dialect

Oor Mak O' Toak: An Anthology of Lakeland Dialect Poems, 1747-1946

As I see & hear it Cumbrian dialect is sound poetry. The written dialect texts held at the Armitt are a joyous celebration of Cumberland and Westmorland spoken language and include an almost full collection of the Grasmere Dialect plays (a truly incredible resource). It is no surprise that these texts contain for me such pleasure as to read them is to hear my home and to hear my family. My paternal grandad, Frank Townsley Walker, is so broad in accent that when he joined the army and they asked where he was from he declared 'Wuky'ton' (i.e. Workington). From that moment on his name was forever changed to 'Wuky'. Wuky is a local legend, mountaineer extraordinaire and Cumbrian saint, so much so that the recent refurbishment of our local pub The Galloping Horse in High Harrington has a room dedicated to him 'Wuky's Nook'. Speaking to him about his county and walking in its mountains he has endless tales. Most notably of building a cairn on Knock Murton, which I liken to Schwitters building the Merz Barn Wall. When I asked him why he built the cairn he said 'cuz there wuzn't yan!' Apparently he had to do it over a few evenings in the dark and disturbed the women who lived in the farmhouse below the fell, he was eventually invited in for a brew.6 In some respects my interest in dialect are driven by my loss of it. The mixture of living away from home and teaching in academia has slowly re-tuned my voice and re-choreographed my tongue, but the body remembers and my Cumbrian returns when speaking to Wuky.


He wuz Inglish, Ah wad think Lakeland bred because he was a good hand at buildin' a dry stean waw, but as Ah've said befooer he was far travelled…Noo, Walker was a scholar, he knew t' French an' t' Greek languages, an' could recite plays an' poyems fra neet ta mwornin'…He knew Kit North when we leeved at Elleray by Windermere an' he thowt a lot o' laal Hartley Coleridge, an' Bob Southey but nut much o 'auld Wadsworth; Walker yusta caw 'im Rydal Waddy t' skin-flint. He was varra frinndly wid De Quincy when he leeved at Dove Cottage…

7
Walk(er)ing

Sidgwick, A. H. 1912 'Walking Essays'

Wuky and me Fadther took me walking from a young age. Whilst on residence at the Armitt I was able to walk in the fells of the Lakes again, and so, in parallel to writing in the Armitt library each day I was walking and exploring 'Wordsworth Country'. I walked a different fell each evening and these walks became an important part of the writing of Condensations, you can see the influence in the arrangement of the text: The view from above, the formation of clouds, watching a curtain of rain move towards us from the shoulder of a hill, 'dry stean waw's' (dry stone walls) cutting patches on the fell side, place-names you discover on the old road back home. These experiences are present within the writing, without them I would not have been able to language the landscapes of my home county.

Condensations brings together texts, languages, sounds and places, it slowly-collages new associations that perform on the page. If nothing else, Condensations introduces Wuky to Schwitters, that is it introduces my Gran-Dada to Dada!


Curtain of rain approaching Ambleside & Rydal
Notes
---